---

Welcome to
We Never Learn! Wiki
, a MediaWiki-based encyclopedia dedicated to Taishi Tsutsui's
We Never Learn!
series. We encourage users to help make this wiki even better. To start off, check out the above links to get an idea of how wiki editing work.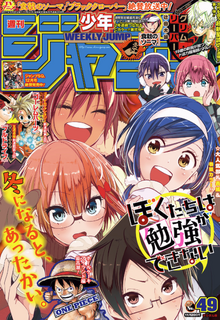 We Never Learn!
(ぼくたちは勉強ができない,
Bokutachi wa Benkyou ga Dekinai
?
) is a harem comedy manga written by
Taishi Tsutsui
which has been serialized in the Weekly Shounen Jump since February 6, 2017. The story follows
Nariyuki Yuiga
, a 3rd-year high school who has to tutor two of the school's geniuses,
Fumino Furuhashi
and
Rizu Ogata
? And if he doesn't, Yuiga won't be able to be recommended for a good university which he yearns for! Will Yuiga be able to successfully tutor these two beautiful geniuses?! Find out in, "We Never Learn!"
<poll> Are you excited about the anime adaptation of We Never Learn! manga series? Yes No
The wiki is still very incomplete, and we need your help in filling up this wiki with information about We Never Learn!. Here's how you can help:
Look for article stubs and short pages. Expand on articles that are tagged with the Stub template, and try to add more information on short pages.
Create an article needed by the wiki.

Red links

are a sign of an incomplete wiki. Click on these red links to create an article, or see the list of wanted pages here.
Organize articles by using categories. As this wiki builds up, putting things together under a common tag is a necessity. Adding categories not only help readers in looking for content they need, but it also eases the job of fellow editors in going around the wiki.
Blogs
For more information: head to the main Wikia Community site.
Hello, AratashiKun here. I've been spending a lot of time to the wikis' and subreddits that I run. A…
Hello, AratashiKun here. The following contains a list of both pages suited for updates and pages u…
See more >
Upcoming Anime Highlights